3 of the Best Bahamas Micro Wedding Venues
The Bahamas have long been a popular area for destination weddings, and for good reason.
The crystal blue waters.
The bright, sunny skies.
The warm and welcoming air.
The kind and friendly locals.
These are just a few of the many wonderful attributes of these magical islands.
But with so many beautiful Bahamas wedding resorts to choose from, it can be difficult to know where to start.
In this post, we want to show you three of our favorite Bahamas micro wedding venues.
3 Bahamas Micro Wedding Venues
La Bougainvillea: Paradise is found at this 50-acre 4-star hotel and restaurant on the island of Eleuthera. The hotel is known for its pink sand beaches and luxurious accommodations. Hence, this Bahamas micro wedding venue is one to definitely consider for your destination wedding. The property boasts four suites, three cottages, and four villas that can accommodate anywhere from 2 to 14 people per unit. The Oceanview Suite with King Bed—perfect for the bride and groom—features a sliding wall that gives direct access to the palm-studded beach and turquoise ocean.
For those wanting the family all in one place, Seven Palms offers 6 bedrooms and 6.5 baths, a private infinity pool, and immediate access to the ocean. In addition to the stunning surroundings and lavish digs, La Bougainvillea features a beachside organic "farm and ocean-to-table restaurant" that can be included in your wedding reception. Have your service on the picture-worthy beach, and finish off the night with dinner and dancing next to the calming pool. Interested in friends and family kayaking or snorkeling on the Bahamas' famous waters? Or interested in a private chef or masseuse? Most importantly, Chic Bahamas Weddings can arrange it all, ensuring that your dream wedding is unforgettable.
Mika's Resort
Mika's Resort: Also located on the pink-sanded island of Eleuthera is Mike's Resort, a charming beachfront resort with private access to the ocean. This small but mighty property offers a luxury penthouse and several casitas. Impressive picture windows overlook the ocean and sleek, simple, and functional décor. However, the property doesn't have a pool. Nevertheless, who needs one when you're seconds from the ocean! Mika's little slice of the sea also features a truly unique reef that guests are welcome to snorkel safely around. Other standout amenities include a sunny deck for yoga or sunbathing, luxury bedding, fishing equipment, kayaks, beach chairs and towels, and snorkeling gear. Since this property is smaller than La Bougainvillea, it's perfect for that intimate, informal wedding with just a handful of dearest friends and family.
Little Exuma Gem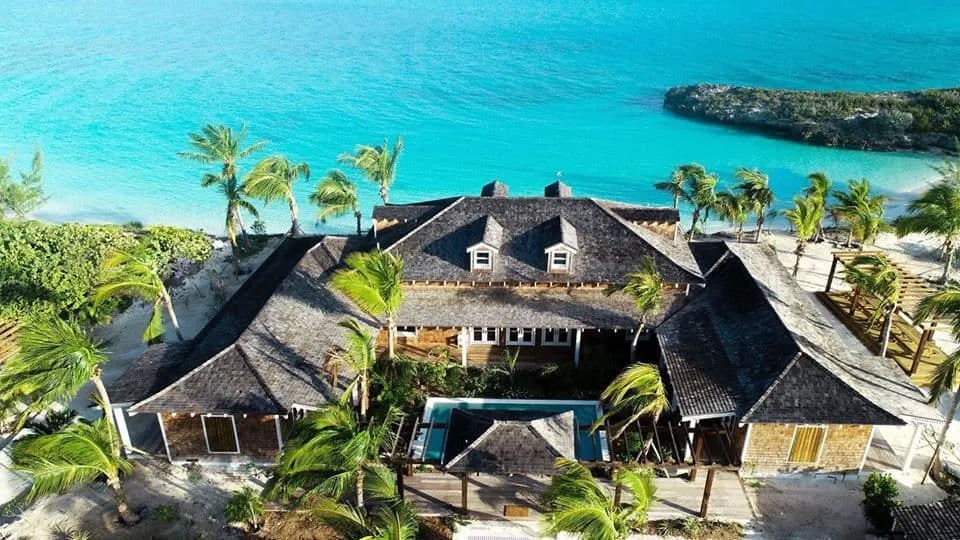 The Exuma Outpost: The micro-est of these three beautiful locations are these beautiful villas. Moreover, the Outpost is housed on the laidback and charming island of Little Exuma, Bahamas. Specifically, this property, fit for royalty, boasts six bedrooms with modern cottage décor that can sleep up to 12 people. Several of the rooms feature direct access to the private beach or pool. Furthermore, what makes this property excellent for small, intimate weddings is the cozy and welcoming décor and layout. You'll never be too far away from your friends or family. And, there are several communal areas to hang. Additionally, there is the vaulted ceiling living room, the courtyard pool, or the crystal blue beach. With excellent reviews, this villa is an excellent choice for small weddings where you experience "shared memories that you will enjoy forever."
These are just three of our favorite micro wedding venues and Bahamas wedding packages. Lastly, for more recommendations on stunning venues to consider for your future wedding, contact us at Chic Bahamas Weddings & Events at 305-433-8099 or on our contact page. Or, our Bahamas wedding blog also includes more Bahamas wedding venues. We'd love to be your luxury wedding planner.
---