Chic Bahamas Weddings Featured On PartySlate For Spectacular Centerpiece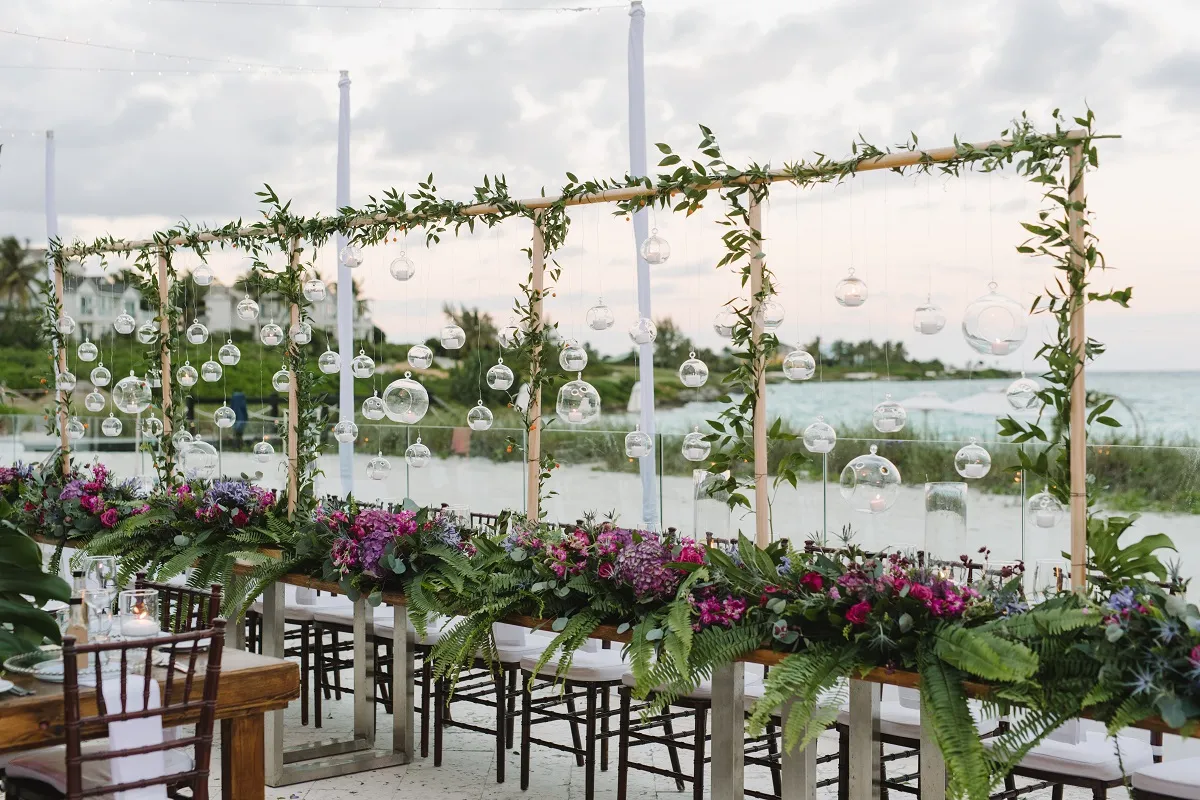 How would you feel if you receive news that your Bahamas beach wedding centerpiece has been featured in a top wedding magazine? That's exactly how we felt when we received this message from PartySlate Account Success Manager:
"I wanted to share an editorial piece we just released that features your beautiful work! We are really excited about this one…"
If you don't know PartySlate, it's an amazing website started in 2015 by Julie Roth to provide inspiration for excellent event planning. It also helps connect people with leading event professionals and venues all over the world.
The PartySlate editorial piece, titled: 25 Beach Wedding Centerpieces for a Seaside Event, showcased the most beautiful beach wedding centerpieces and the talented vendors that made them happen. For Chic Bahamas Weddings, the Palm-Frond Garland Centerpiece with Globed Candlelight was featured. We created this centerpiece for Rachelle and Phillip's Bahamas beach wedding at the Grand Isle Resort on the island of Exuma.
After a chic beach wedding ceremony at Emerald Bay Beach, the reception was hosted at the beautiful Grand Isle Resort indoor-outdoor venue with breathtaking ocean views, 23 North. We transformed the patio with lush florals, glass, and candlelight, transforming the venue into a spectacular setting. For the Palm-Frond Garland Centerpiece with Globed Candlelight centerpiece, we used jewel-toned floral, ferns, vines, and candlelight, which was an even more spectacular sight to behold at sunset.
"The intimate ceremony featured a beautiful ceremonial arch adorned with lush ivory roses and gorgeous greenery overlooking the calm blue sea. Chic Bahamas and Events did an excellent job planning an unforgettable destination wedding." – PartySlate
No doubt, wedding venue decor is one of the most important aspects of a spectacular wedding ceremony. But, when you're hosting a beach wedding, decorating can be a little bit tricky. Hence, having stunning wedding table centerpieces is essential, not only to accentuate the table but distinguish your wedding reception. If you're planning a Bahamas beach wedding, continue reading to learn the benefits of having a centerpiece, and find unique centerpieces ideas for your destination wedding reception ceremony.
Why You Should Have A Centerpiece For Your Beach Wedding Reception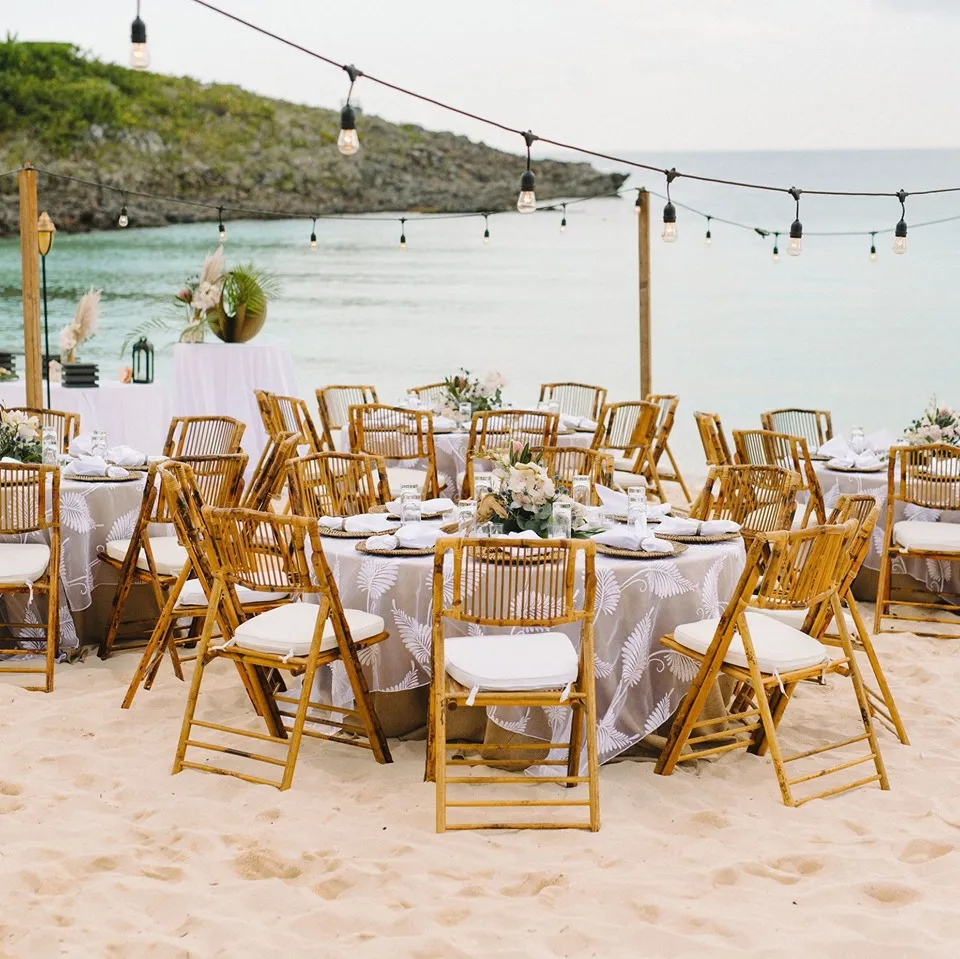 Centerpieces make alfresco receptions an unforgettable scene. They make an awe-inspiring statement that gives your event an air of festive elegance. Unlike bare tables or plain tablecloths that make your event look boring, gorgeous wedding centerpieces will mesmerize your guests. They also make the table feel inviting and welcoming, so your guest will enjoy celebrating your special day with you. Besides the elegance centerpiece brings to events, they can also serve as an ice breaker for your guests. Stunning centerpieces may spark exciting discussions about the creative design and the idea behind it. You can also have centerpieces like custom fortune tellers for a dare game to make your guests engage with each other. If wedding centerpieces were not in your wedding plans, you should consider having one now to enhance the elegance of your picture-perfect big day.
Centerpiece Ideas for Your Bahamas Destination Beach Wedding
Centerpieces are amazing for uplifting your reception ambiance. However, you can't just place a random piece in the center of your reception table. Your centerpiece has to be stunning to make a statement. Outlined below are the essential pieces of the Chic Bahamas Weddings featured centerpiece, as well as other centerpiece ideas you can personalize and combine for your beach wedding in the Bahamas.
*  Floral Arrangements
Flowers, succulents, and air plants are quite popular in transforming a plain reception table into a colorful banquet. You can have the regular flower-in-vase arrangement, but there are several other ways to use floral arrangements to make a statement. Tall floral arrangements that draw the eye up are stunning. If the outdoor reception is in a tent, you can suspend the flowers from above for a more fabulous look. For Chic Bahamas Weddings PartySlate featured centerpiece, we used jewel-toned florals, vines, and ferns in a narrow arrangement that ran across the table.
*  Candle Arrangements
Candles can transform your picture-perfect beach wedding into a romantic dreamscape. They are especially great if your reception ceremony will run until nightfall. The glow of candles in the dimly lit outdoor venue will give your ceremony a spectacular look. You can create a dreamy vibe with pillar candles in tall glasses and tapered candles on towering vintage candelabras. Even better, you can have the candles floating in water-filled bowls, with or without flowers. For Chic Bahamas Weddings PartySlate featured centerpiece, we suspended the candles in clear glass globes to create a charming and enchanting vibe.
*  Other Centerpiece Ideas
You can create a magical centerpiece with seashells and starfishes by placing them in a clear vase on the table. The glow of frosted glass lanterns, like candles, can also set a romantic mood when used as centerpieces. An unconventional option is to set up a table game in the middle of the table, such as the Jenga block-stacking game, that your guests can play together.
Host Your Bahamas Destination Wedding with a Spectacular Centerpiece
If you're looking to host a destination beach wedding in the Bahamas, then a beautiful centerpiece will add to the breathtaking landscape. At Chic Bahamas Weddings, we pay attention to every detail of our clients' dream island wedding, and will ensure that you have a spectacular centerpiece that matches the rest of your wedding décor theme. Here's PartySlate's Insight about Chic Bahamas Weddings:
"We love how Chic Bahamas Weddings and Events manages every aspect of your destination wedding, including travel, lodging, and excursions. Their in-depth knowledge of the Caribbean, as well as their extensive coordination and production experience, means you will always be in the best possible hands." – PartySlate Editor
Need Centerpiece Ideas For Your Bahamas Wedding Ceremony?
Reach out to us at Chic Bahamas Weddings today!