Destination Micro Weddings in The Bahamas
Micro weddings were trending even before Covid-19 became a reality. Couples drawn to a more minimalist lifestyle loved the scaled-down approach of a destination micro wedding. But the concept has really gained traction with couples as they plan weddings that align with health and safety guidelines for gatherings.
So what is a micro wedding?
Basically, a micro wedding contains all elements of a traditional wedding – just on a much smaller scale. Typically, a micro wedding is 50 guests or fewer. Micro weddings are great for couples who favor the intimacy of exchanging vows in front of immediate family and their closest friends.
As top Bahamas wedding planners, we are experts in planning destination micro weddings, in the beautiful Bahamas, an exotic locale that is incredibly convenient for travelers from the US and Canada. Let us share with you a few of our micro wedding tips.
With a Destination Micro Wedding, Think Big!
If you opt for a micro wedding, keep in mind that even though your guest count is small, you can still think big as it relates to the overall experience. Some couples will pay for their guests' lodging and transportation. Others will spring for a top-shelf bar or a four-course gourmet plated dinner. There are plenty of ways to maximize the experience of a micro wedding, and hiring an experienced wedding planner is the best way to make it happen effortlessly.
In addition to springing for upgrades that might not be possible with a larger gathering, many couples will also endeavor to create a truly personalized experience for their guests. A handwritten note to each guest is much more doable with a headcount of a few dozen! And personalized favors are more budget-friendly when you're not talking about hundreds of people. A micro wedding presents countless opportunities to be creative and unique.
One benefit of having a micro wedding is that smaller headcounts may allow you to hold the wedding in places that wouldn't otherwise work. Think of restaurants, cafes, or parks. In the Bahamas, we love to host these smaller weddings at Bahamas luxury villas, The Cove Eleuthera, Grand Isle Resort, The Island House, Rosewood Baha Mar, and The Ocean Club, A Four Seasons Resort. The luxury villas that we love include The Exuma Outpost, The Reef House Exuma, Beachwood, Greystone, Shades of Blue, and Sea Escape, all located in Little Exuma, Bahamas. These venues offer a variety of options for small groups.
Micro Weddings in The Bahamas Bonus
Another bonus is that micro weddings are easier to coordinate! Vendors have adjusted accordingly to this new reality and many offer packages or hourly rates for couples who think small. You may not need a photographer with a second shooter for 8 hours because your shot list shrinks with a smaller crowd – but you still absolutely need a photographer! Many florists can provide beautiful arrangements for weddings that only need a table or two. A local baker will frequently offer lovely dessert options for couples who don't need a four-tier wedding cake.
3 Bahamas Micro Wedding Venues for Your Destination Micro Wedding
Paradise is found at this 50-acre 4-star hotel and restaurant on the island of Eleuthera. The hotel is known for its pink sand beaches and luxurious accommodations. Hence, this Bahamas micro wedding venue is one to definitely consider for your destination wedding. The property boasts four suites, three cottages, and four villas that can accommodate anywhere from 2 to 14 people per unit. The Oceanview Suite with King Bed—perfect for the bride and groom—features a sliding wall that gives direct access to the palm-studded beach and turquoise ocean.
For those wanting the family all in one place, Seven Palms offers 6 bedrooms and 6.5 baths, a private infinity pool, and immediate access to the ocean. In addition to the stunning surroundings and lavish digs, La Bougainvillea features a beachside organic "farm and ocean-to-table restaurant" that can be included in your wedding reception. Have your service on the picture-worthy beach, and finish off the night with dinner and dancing next to the calming pool. Interested in friends and family kayaking or snorkeling on the Bahamas' famous waters? Or interested in a private chef or masseuse? Most importantly, Chic Bahamas Weddings can arrange it all, ensuring that your dream wedding is unforgettable.
Mika's Resort
Also located on the pink-sanded island of Eleuthera is Mike's Resort, a charming beachfront resort with private access to the ocean. This small but mighty property offers a luxury penthouse and several casitas. Impressive picture windows overlook the ocean and sleek, simple, and functional décor. However, the property doesn't have a pool. Nevertheless, who needs one when you're seconds from the ocean! Mika's little slice of the sea also features a truly unique reef that guests are welcome to snorkel safely around. Other standout amenities include a sunny deck for yoga or sunbathing, luxury bedding, fishing equipment, kayaks, beach chairs and towels, and snorkeling gear. Since this property is smaller than La Bougainvillea, it's perfect for that intimate, informal wedding with just a handful of dearest friends and family.
The Exuma Outpost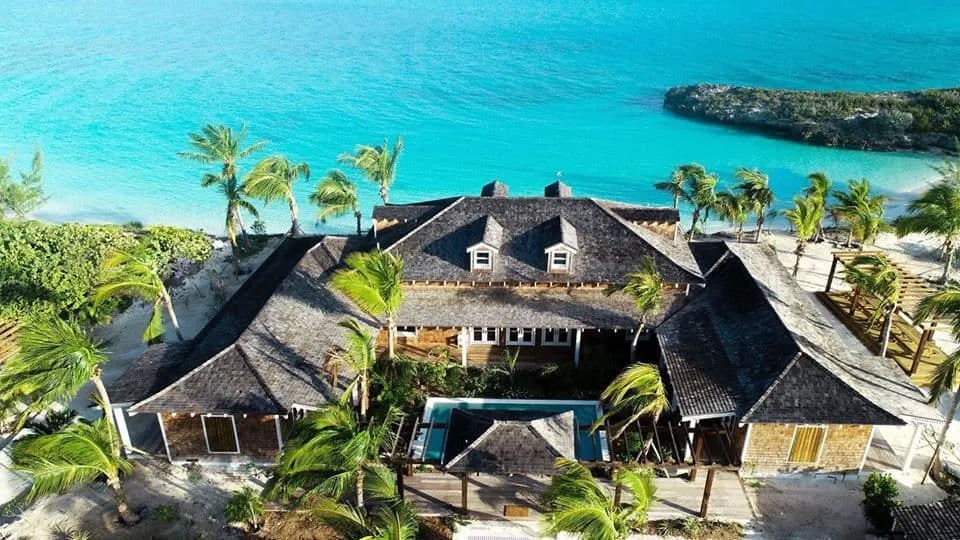 The micro-est of these three beautiful locations are these beautiful villas. The Outpost is housed on the laidback and charming island of Little Exuma, Bahamas. Specifically, this property, fit for royalty, boasts six bedrooms with modern cottage décor that can sleep up to 12 people. Several of the rooms feature direct access to the private beach or pool. Furthermore, what makes this property excellent for small, intimate weddings is the cozy and welcoming décor and layout. You'll never be too far away from your friends or family. And, there are several communal areas to hang. Additionally, there is the vaulted ceiling living room, the courtyard pool, or the crystal blue beach. With excellent reviews, this villa is an excellent choice for small weddings where you experience "shared memories that you will enjoy forever."
Most Destination Weddings Are Intimate Weddings!
Fun fact! Most destination weddings ARE micro weddings! Because our clients and their guests travel to the Bahamas from all over the world, their wedding parties tend to be on the smaller side. We're experts at planning and designing weddings with smaller headcounts! And the Bahamas is an absolutely ideal destination for such weddings – our favorite venues offer gorgeous indoor/outdoor options that are well-ventilated with our famous Bahamas breezes (and those don't cost extra!). Social distancing is not a problem when you have your wedding on one of our beautiful beaches! And our vendors have always taken sanitary guidelines very seriously – we can ensure that everyone has a stress-free experience on the best day of your life!
Does an intimate wedding sound like an amazing idea? Are you dreaming of exchanging vows with the one you love in the beautiful Bahamas? Don't delay and contact us today! As the Bahamas' premier wedding planners, we can guide you through your options for an elopement, micro wedding, or grand destination wedding.