Four Seasons Ocean Club Wedding Venue: a Bahamas Destination Dream!
The Bahamas offers numerous spectacular spots to host dream weddings when it comes to romantic destination weddings. However, this wide range of Bahamas destination wedding venues can make it overwhelming to select the right place to celebrate your wedding day with your loved ones. Hence, we've created this ultimate guide to spotlight one of the most amazing Bahamas venues to host a perfect Bahamas dream wedding.
The Four Seasons Ocean Club Bahamas
If your dream is to have an enchanting wedding that is the stuff of fairytales, then Four Seasons Ocean Club is the Bahamas destination wedding venue for you. Located on Paradise Island, with a splendid view of the Nassau Harbor, this alluring resort has a magical setting that will bring your dream fairytale wedding to life. It offers the glamorous ambiance of a grand colonial manor, complete with elegant stone pathways and quirky Cupid and Psyche statues.
When you and your guests arrive at the Ocean Club, you can enjoy a meal at one of the resort's restaurants. There is also a world-class golf course, several swimming pools and tennis courts, and other relaxation amenities. At the resort's on-site treatment room, you and your bridal train can indulge in a full spa service, including massages, facials, and body scrubs. The resort also offers oceanfront accommodation, including spacious guest rooms and villas with direct views of the crystal clear water.
The Ocean Club resort offers four stunning venues to host amazing wedding ceremonies. The Versailles Garden, the main wedding venue in the resort, has artistry surrounding lush multi-tiered lawns of purple bougainvillea blooms, manicured hedges, and tiered stone walls. You can walk down the aisle on the stone pathways and exchange your vows by the Koi fish pond at the top of the stair-stepped garden. Then, host a private ceremony for a small wedding party in the tranquil corners of the Garden, or a large wedding gala on the expansive lawn.
The Cloisters, which is perched atop the Versailles Pool Terrace, is another premier venue for wedding ceremonies at the resort. The picturesque columns and 12th-century Augustinian cloisters make it look like a romantic setting out of a historical movie.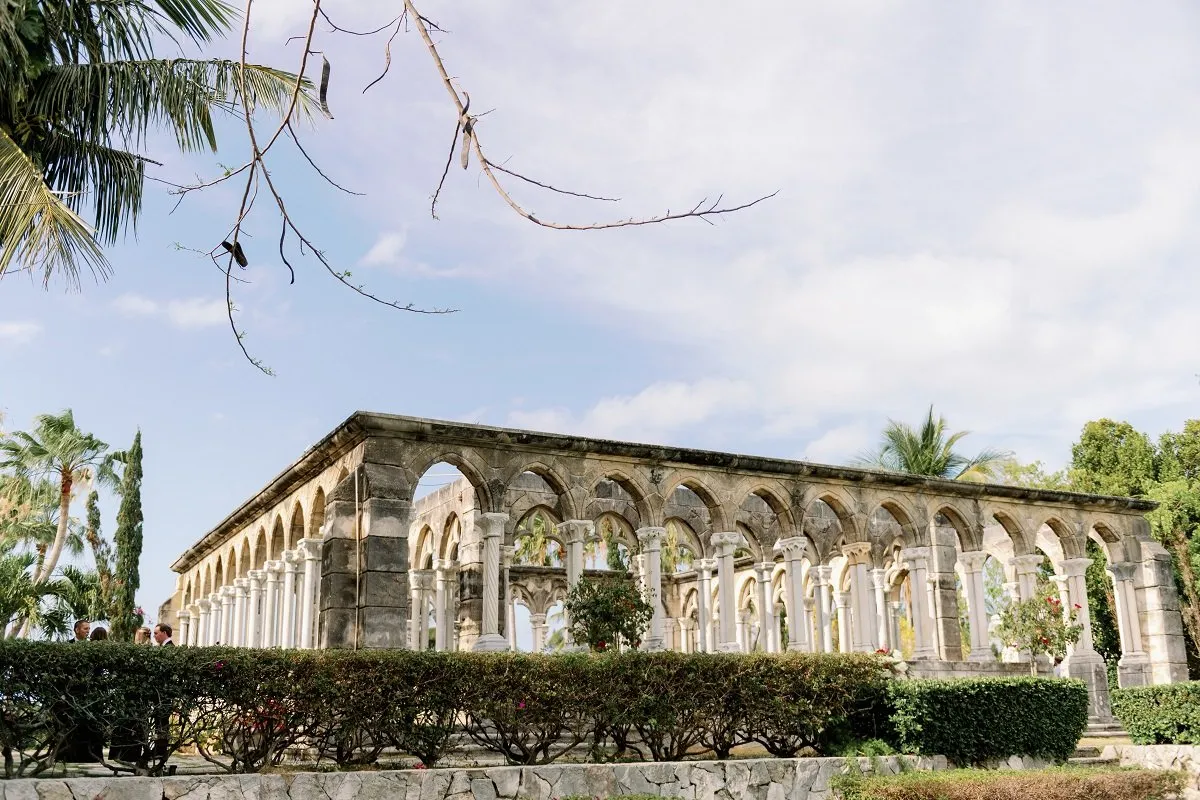 The Versailles Pool Terrace, with the beautiful view of the vibrant green tiers of the Versailles Garden, is also a great venue for an elegant wedding reception. And, if you prefer a beach wedding, you can say "I do" on the sparsely-crowded beach and have your reception on the resort's Beach Deck, with an unparalleled view of Caribbean turquoise waters on full display.
After your wedding ceremony, you can stay on for a swoon-worthy honeymoon. You and your spouse can wake up to breakfast on your private balcony, enjoy up to eight Bali-inspired spa treatment, and explore the colorful underwater wonders of the reefs of the Great Bahamas Bank. You can also go on island adventures, including snorkeling safaris and sunset cruises, or just snuggle with your partner in the resort's secluded nooks and seaside hammocks.
Real Four Seasons Ocean Club Wedding planned by Chic Bahamas Weddings
Host Your Luxury Resort Bahamas Destination Wedding
No doubt, the Four Seasons Ocean Club is a top-notch luxury resort with spectacular venues for amazing destination Bahamas weddings. And, when you work with a professional Bahamas wedding planner like Chic Bahamas, you can celebrate the best day of your life with your family and loved ones without worrying about every tiny detail.
At Chic Bahamas, we will work with you to plan your dream wedding at the Four Seasons Ocean Club that your guests won't soon forget. We will ensure that the ceremony is personalized to suit your personality and desired style and that all your wedding day wishes come true. You can contact us today for a free consultation to learn how we can make your wedding day an unforgettable experience.