Nassau Bahama Weddings on the Beach: Kelly & Ben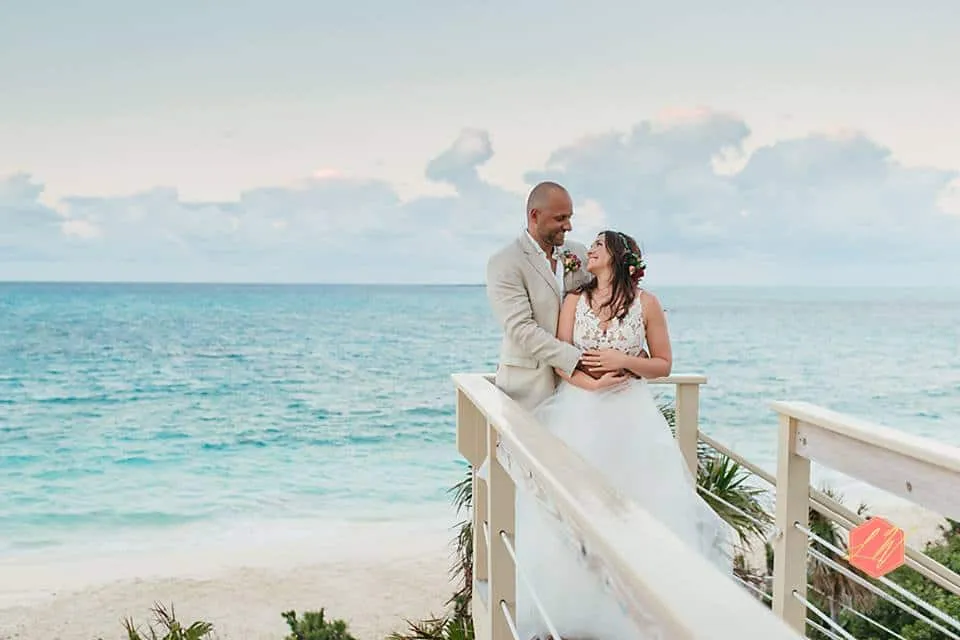 Kelly and her mother visited the Bahamas before their wedding to check out venues and meet vendors firsthand. At the end of their visit, all major decisions were made. We were in a comfortable place. The couple's wedding was slated for early November. But, hurricane Matthew occurred in early October. One of the islands it impacted was Grand Bahama, the location of Kelly and Ben's wedding. And, clean up was not due to be completed until a month later.
The bride and groom's original wedding date of November 5 was most important to them. They did not want to lose it. So, we set out to find an alternate location – a private secluded beach venue for both ceremony and reception. The search began. Ben and Kelly chose Sandy Toes, Rose Island, off Paradise Island, Nassau, Bahamas. A private, secluded island, it was perfect for their wedding and much like the original venue.
A restart of planning began. Off we went! Choosing another host hotel, re-booking of all the same vendors the bride had selected initially began. Kelly and Ben chose Melia Nassau Beach, a convenient option for guests, as their host hotel. The hustle was on! Nevertheless, all planning, design, and production worked remarkably well.
Even though we were faced with a venue change due to Matthew, Kelly and Ben were troopers. We stayed the course and pressed on.
Welcome Event
Guests managed to shuffle flights and arrived in Nassau, Bahamas. We worked with the Melia to welcome guests the evening of the arrival at The Lobby Bar.
Warm and welcoming, the Bar was the perfect spot for Kelly and Ben to greet excited guests. Joy abounded. The Bahamas elopement wedding weekend was underway!
Nassau Bahama Weddings on the Beach
Wedding Day arrived. What's more, excitement mounted. Kelly, her bridesmaids, and mother were transported early morning to the luxury Villa at Sandy Toes. Once at Paradise Island Terminal, a private speed boat whisked us all to Sandy Toes. Sandy Toes amiable staff greeted the bride and her entourage and squired them to the Villa. Here, the bridal party would share the fun of lunch and beauty appointments by Windermere East Spa.
But, the day was very emotional as Kelly's deceased father would not be present to walk her down the aisle. The day ticked away and it was time for Kelly to walk down the aisle.
Bahama Wedding Ceremony on The Beach
Deck Oceanside Reception
Chef Monica McKenzie and her catering team's three-course plated gourmet feast thrilled guests. Besides this scrumptious dinner, guests also indulged in dessert – a most delicious rum wedding cake. Next, it was dancing under the stars to the tunes of the fun DJ Earl "Daddy Steelie" Neely.
Planning a Bahamas micro wedding? Contact Chic Bahamas Weddings to plan your wedding in this Paradise called the Bahamas. It's going to be a dream come true!